Champagne only comes from Champagne, France. Let's celebrate international Champagne Day.
It's got to be one of the world's favourite drinks. Classy, fun, sexy, celebratory, spoiling or something to brighten a glum day. Now you can celebrate Champagne Day each year as the region has given you official permision to crack open a bottle.
Martin Dibben, AKA #misterbubblesuk, knows a thing or too about Champagne. A board member at the Champagne Academy and Head of Champagne and drinks at Searcys he will certainly be opening a bottle of something on the 27th October. He says, "Unlike other wines, champagne is so diverse with blending being the key factor. Different grapes are used, varying dosage, different years can be blended so you get such a variety of cuvees. I love coming across new champagnes as you never know what you are going to get from the assemblage."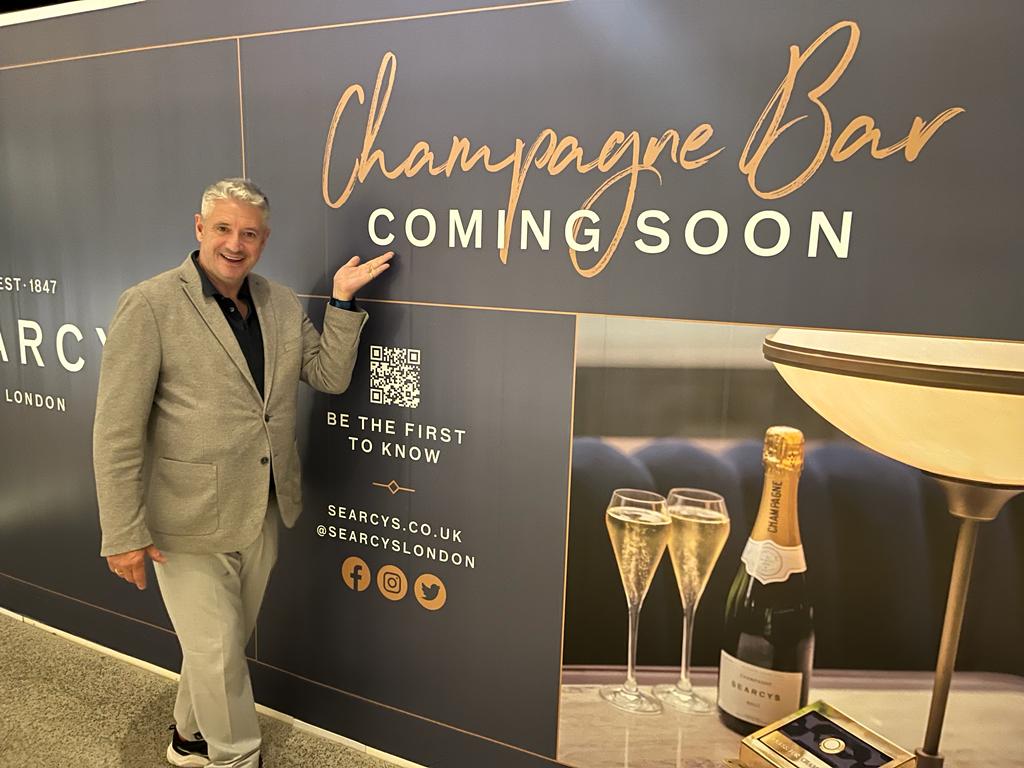 His company manages some of London's top spots to sip a small coupe. "We celebrate The World Champagne Day as it is a most fitting day to shine a spotlight on one of Searcys brand pillars," he explains. And he should know, running the champagne lists for the St Pancras Champagne Bar, Iris Bar at The Gherkin as well as the Champagne Bar at Battersea Power Station and 116 Pall Mall. "Champagne is a drink for all occasions, whether it's your drink of choice or something you save for celebrations. We are celebrating the world's most famous drink with our most popular activation: giving out our Searcys shilling which you can exchange for a free glass of champagne at one of our restaurants – giving us the opportunity to reward our existing guests and at the same time offer an incentive to create new customer through champagne."
I trifle with it if I'm not hungry and drink it when I am. Otherwise I never touch it – unless I'm thirsty.   Madame Lily Bollinger on champagne
To mark Champagne Day 2023 here are a couple of our top new Champagne launches to look out for if your are stuck for something to choose.
Rendez-vous with Billecart Salmon
Famed for its lush rosé Champagne, Billecart-Salmon has created an exclusive range called Les Rendez-vous de Billecart-Salmon . Born to showcase the prinicple Champagne grape varieties, made from  from the best and most exceptional terroirs and fruit.
The newest additions to the range are  Rendez-vous N°4  – a chardonnay from the 2015 vintage, sourced exclusively from historic Côte des Blancs Grand Cru vineyards in Mesnil-sur-Oger. Rendez-vous Numéro Cinq pinot noir fruit comes from from the best vineyards on the Montagne de Reims. Together with exceptional winemaking, these wines are a treat.
Dabbling with Drappier
Well-known for its sulphur-free Champagnes, the Drappier family has been making wonderful sparkling wines in the south of the region for over 200 years.
Michel Drappier is a true pioneer, charming and passionate about his craft. He decided to experiment with ageing his Champagne Drappier Carte d'Or and Brut Nature in the sea and what was intended as a fun technical experiment became a new range: The Drappier Immersion Set.
At depths of up to 30 metres, the underwater pressure, temperature and light create the perfect conditions for wine to age. The bottles are transported to the coast off Brittany, France, where they are immersed in the sea for 1-3 years. The special pack contains two bottles of the same champagne; one has evolved in the sea and the other in the Drappier cellars in Urville. A wonderful opprtunity taste Champagne in two distinct and fascinating ways.
The new launch from Bruno Paillard Blanc de Noirs recommended on Sommelier Edit is also worth a try.
You can find out about Champagne Day events here and if you need some beats to bop to whilst you are celebrating, there's even a Champagne Day playlist that you can listen to whilst sipping your favourite brand.